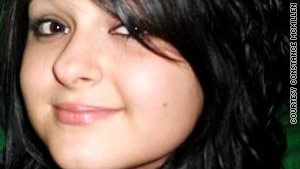 (CNN) -- Walking into school Wednesday morning was not easy for Constance McMillen. The last time she'd been there was March 11, the day after her Fulton, Mississippi, high school canceled prom rather than allow her to wear a tuxedo and attend with her girlfriend.
She didn't assume last week's spring break would cool things down. She expected stares, dirty looks and cold shoulders, and passing through the doors was daunting. Over these last two weeks, she said, she's had a hard time sleeping, can barely eat, feels anxious and -- until she saw a doctor for help -- often felt like she was "going to throw up."
"I've been very nervous about all of this," the 18-year-old Itawamba Agricultural High School senior said. "I don't like being somewhere where everyone hates me."
READ THE REST HERE
http://www.cnn.com/2010/LIVING/03/26/constance.mcmillen.tension/index.html?hpt=C1